HOME PAGE
Nashua Telegraph
Nashua, New Hampshire, U.S.A.
10 April 1933 page 4

| | | | | | | |
| --- | --- | --- | --- | --- | --- | --- |
| S | M | T | W | T | F | S |
| | | | 1 | 2 | 3 | 4 |
| 5 | 6 | 7 | 8 | 9 | 10 | 11 |
| 12 | 13 | 14 | 15 | 16 | 17 | 18 |
| 19 | 20 | 21 | 22 | 23 | 24 | 25 |
| 26 | 27 | 28 | 29 | 30 | 31 | |

| | | | | | | |
| --- | --- | --- | --- | --- | --- | --- |
| S | M | T | W | T | F | S |
| | | | | | | 1 |
| 2 | 3 | 4 | 5 | 6 | 7 | 8 |
| 9 | 10 | 11 | 12 | 13 | 14 | 15 |
| 16 | 17 | 18 | 19 | 20 | 21 | 22 |
| 23 | 24 | 25 | 26 | 27 | 28 | 29 |
| 30 | | | | | | |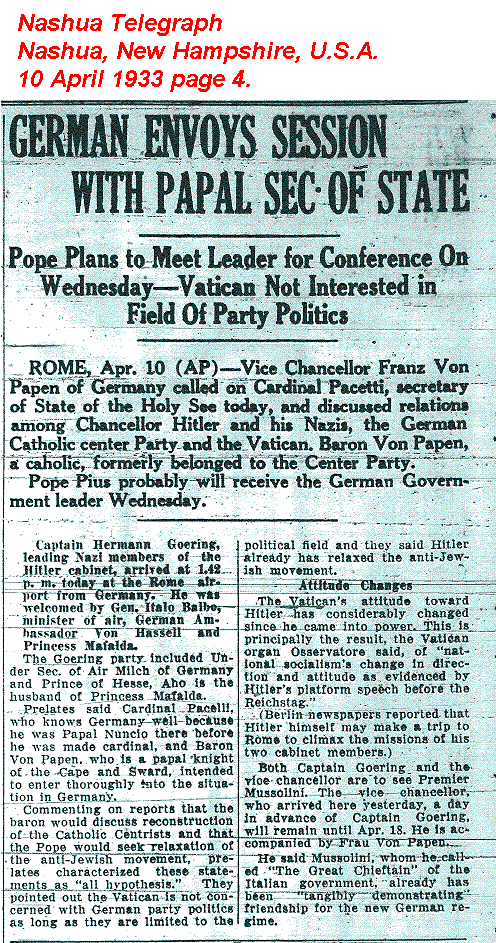 Click on the image to view
a higher-resolution image.


GERMAN ENVOYS SESSION
WITH PAPAL SEC OF STATE
---
Pope Plans to Meet Leader for Conference On
Wednesday—Vatican Not Interested in
Field Of Party Politics
---
ROME, Apr. 10 (AP)–Vice Chancellor Franz Von
Papen of Germany called on Cardinal Pacetti, secretary
of State of the Holy See today, and discussed relations
among Chancellor Hitler and his Nazis, the German
Catholic center Party and the Vatican. Baron Von Papen,
a caholic, formerly belonged to the Center Party.
Pope Pius probably will receive the German Govern-
ment leader Wednesday.
---
Captain Hermann Goering,
leading Nazi members of the
Hitler cabinet, arrived at 1.42
p. m. today at the Rome air-
port from Germany. He was
welcomed by Gen. Italo Balbo,
minister of air, German Am-
bassador Von Hassell and
Princess Mafalda.

The Goering party included Un-
der Sec. of Air Milch of Germany
and Prince of Hesse, Aho is the
husband of Princess Mafalda.
Prelates said Cardinal Pacelli,
who knows Germany well because
he was Papal Nuncio there before
he was made cardinal, and Baron
Von Papen. who is a papal knight
of the Cape and Sward, intended
to enter thoroughly into the situa-
tion in Germany.
Commenting on reports that the
baron would discuss reconstruction
of the Catholic Centrists and that
the Pope would seek relaxation of
the anti-Jewish movement, pre-
lates characterized these state-
ments as "all hypothesis." They
pointed out the Vatican is not con-
cerned with German party politics
as long as they are limited to the
political field and they said Hitler
already has relaxed the anti-Jew-
ish movement.

Attitude Changes

The Vatican's attitude toward
Hitler has considerably changed
since he came into power. This is
principally the result, the Vatican
organ Osservatore said, of "nat-
ional socialism's change in direc-
tion and attitude as evidence by
Hitler's platform speech before the
Reichstag."
(Berlin newspapers reported that
Hitler himself may make a trip to
Rome to climax the missions of his
two cabinet members.)
Both Captain Goering and the
vice chancellor are to see Premier
Mussolini. The vice chancellor,
who arrived here yesterday, a day
in advance of Captain Goering,
will remain until Apr. 18. He is ac-
companied by Frau Von Papen.
He said Mussolini, whom he call-
ed "The Great Chieftain" of the
Italian government, already has
been "tangibly demonstrating"
friendship for the new German re-
gime.