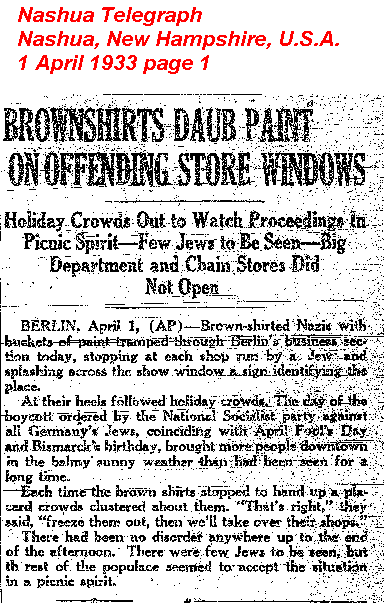 Close-up of front page of the Nashua Telegraph, 1 April 1933
NAZIS BOYCOTT IS UNDERWAY IN BERLIN
---
BROWNSHIRTS DAUB PAINT
ON OFFENDING STORE WINDOWS
---
Holiday Crowds Out to Watch Proceedings In
Picnic Spirit—Few Jews to Be Seen—Big
Department and Chain Stores Did
Not Open
---
BERLIN, April 1, (AP)—Brown-shirted Nazis with
buckets of paint tramped through Berlin's business sec-
tion today, stopping at each shop run by a Jew and
splashing across the show window a sign identifying the
place.
At their heels followed holiday crowds. The day of the
boycott ordered by the National Socialist party against
all Germany's Jews, coinciding with April Fool's Day
and Bismarck's birthday, brought more people downtown
in the balmy sunny weather than had been seen for a
long time.
Each time the brown shirts stopped to hand up a pla-
card crowds clustered about them. "That's right," they
said, "freeze them out, then we'll take over their shops."
There had been no disorder up to the end
of the afternoon. There were few Jews to be seen, but
the rest of the populace seemed to accept the situation
in a picnic spirit.