Click on image to view higher-resolution image.




TELEGRAM

TO CARDINAL

O'CONNELL
---
Asks Catholics Not to
Take Part In Jewish
Protest Meetings
---
BERLIN, Mar. 27 (AP)–Konstantin
Von Neurath, German foreign mini-
ster, today sent the following
cablegram to Cardinal O'Connell of
Boston.
"According to newspaper reports
representatives of the Roman
Catholic clergy will take part in
large protest meetings at Madison
Square Garden in New York, and
elsewhere, tonight against alleged
programs against German Jews.
"I beg to assure your eminence
that such allegation are devoid of
all foundation.
"The recent national revolution
in Germany, which aims at stamp-
ing out the Communist danger and
cleansing the public life of marxist
elements, has proceeded with ex-
emplary order. Cases of disorderly
conduct have been remarkably few
and trifling.
"Hundreds of thousands of Jews
carry on their lives throughout

Please Turn to Page Eight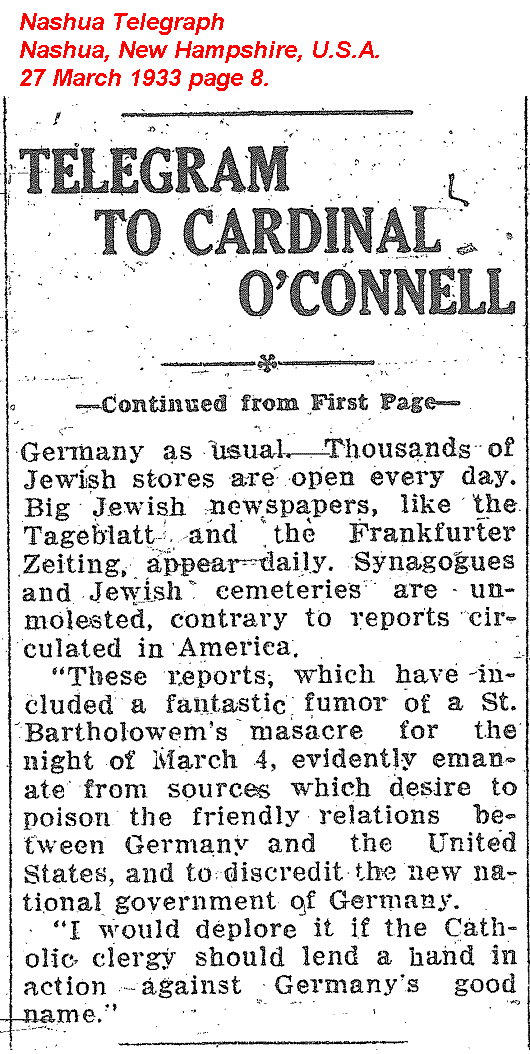 Click on image to view higher-resolution image.
TELEGRAM

TO CARDINAL

O'CONNELL
---
–Continued from First Page–

Germany as usual. Thousands of
Jewish stores are open every day.
Big Jewish newspapers, like the
Tageblatt and the Frankfurter
Zeitung, appear daily. Synagogues
and Jewish cemeteries are un-
molested, contrary to reports cir-
culated in America.
"These reports, which have in-
cluded a fantastic fumor of a St.
Bartholowem's masacre for the
night of March 4, evidently eman-
ate from sources which desire to
poison the friendly relations be-
tween Germany and the United
States, and to discredit the new na-
tional government of Germany.
"I would deplore it if the Cath-
olic clergy should lend a hand in
actions against Germany's good
name."
---