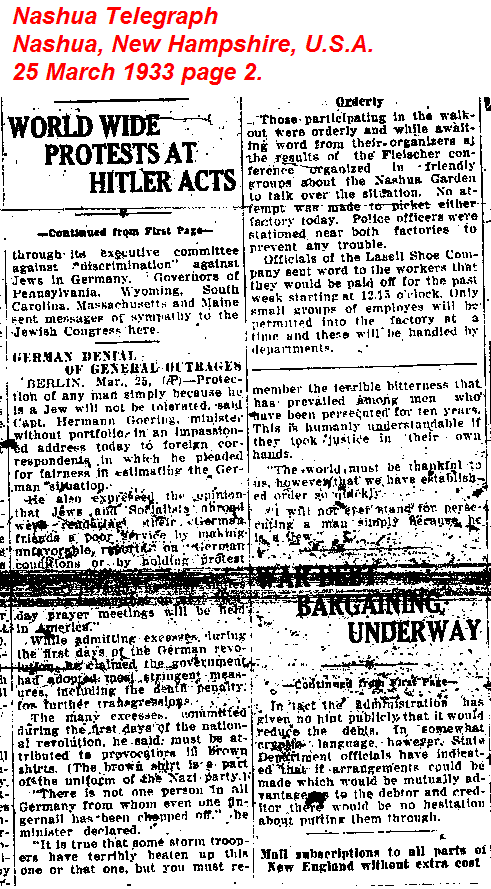 Click on image to view higher-resolution image
WORLD WIDE
PROTESTS AT
HITLER ACTS
---
–Continued from First Page–

through its executive committee
against discrimination against
Jews in Germany. Governors of
Pennsylvania, Wyoming, South
Carolina, Massachusetts and Maine
sent messages of sympathy to the
Jewish Congress here.
---
GERMAN DENIAL
OF GENERAL OUTRAGES
BERLIN, Mar. 25, (AP)–Protec-
tion of any man simply because he
is a Jew will not be tolerated, said
Capt. Hermann Goering, minister
without portfolio, in an impassion-
ed address today to foreign cor-
respondents in which he pleaded
for fairness in estimating the Ger-
man situation.
He also expressed the opinion
that Jews and Socialists abroad
were rendering their German
friends a poor service by making
unfavorable reports on German
conditions or by holding protest
mass meetings
"Every German," he said, "smiles
when he learns that on next Mon-
day prayer meetings will be held
in America.
While admitting excesses during
the first days of the German revo-
lution, he claimed the government
had adopted most stringent meas-
ures, including the death penalty
for further transgressions.
The many excesses, committed
during the first days of the nation-
al revolution, he said, must be at-
tributed to provocators in brown
shirts. (The brown shirt is a part
of the uniform of the Nazi party.)
"There is not one person in all
Germany from whom even one fin-
gernail has been chopped off." the
minister declared.
"It is true that some storm troop-
ers have terrible beaten up this
one or that one, but you must re-
member the terrible bitterness that
has prevailed among men who
have been persecuted for ten years,
This is humanly understandable if
they took justice in their own
hands.
"The world must be thankful to
us, however, that we have establish-
ed order so quickly.
"I will not ever stand for perse-
cuting a man simply because he
is a Jew."
---