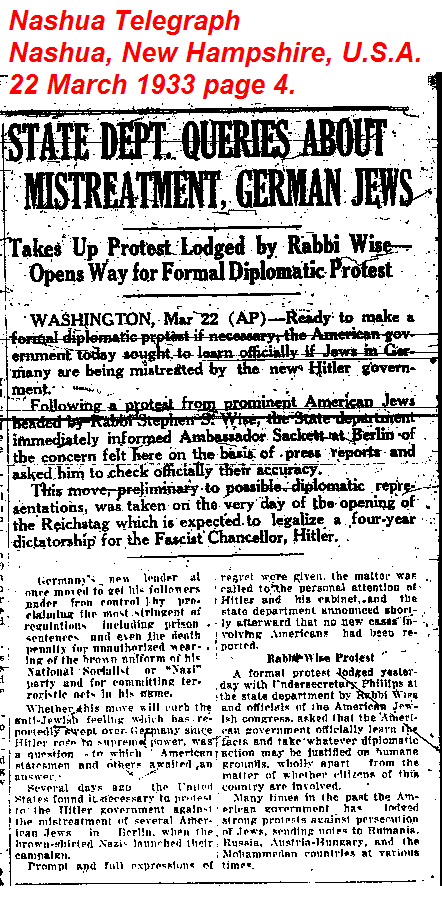 STATE DEPT. QUERIES ABOUT
MISTREATMENT, GERMAN JEWS
---
Takes Up Protest Lodged by Rabbi Wise—
Opens Way for Formal Diplomatic Protest
---
WASHINGTON, Mar 22 (AP)–Ready to make a
formal diplomatic protest if necessary, the American gov-
ernment today sought to learn officially if Jews in Ger-
many are being mistreated by the new Hitler govern-
ment.
Following a protest from prominent American Jews
headed by Rabbi Stephen S. Wise, the State department
immediately informed Ambassador Sackett at Berlin of
the concern felt here on the basis of press reports and
asked him to check officially their accuracy.
This move, preliminary to possible diplomatic repre-
sentations, was taken on the very day of the opening of
the Reichstag which is expected to legalize a four-year
dictatorship for the Fascist Chancellor, Hitler.
---
Germany's new leader at
once moved to get his followers
under iron control ) by pro-
claiming the most stringent of
regulations including prison
sentences and even the death
penalty for unauthorized wear-
ing of the brown uniform of his
National Socialist or "Nazi"
party and for committing ter-
rorostic acts in his name.


Whether this move will curb the
anti-Jewish feeling which has re-
portedly swept over Germany since
Hitler rose to supreme power, was
a question ..to which American
statesmen and others awaited an
answer.
Several days ago the United
states found it necessary to protest
to the Hitler government against
the mistreatment of several Amer-
ican Jews in Berling, when the
brown-shirted Nazis launched their
campaign.
Prompt and full expressions of
regret were given, the matter was
called to the personal attention of
Hitler and his cabinet and the
state department announced short-
ly afterward that no new cases in-
volving Americans had been re-
ported.

Rabbi Wise Protest

A formal protest lodged yester-
day with Undersecretary Phillips at
the state department by Rabbi Wise
and officials of the American Jew-
ish congress, asked that the Ameri-
can government officially learn the
facts and take whatever diplomatic
action may be justified on humane
grounds, wholly apart from the
matter of whether citizens of this
country are involved.
Many times in the past the Am-
erican government has lodged
strong protests against persecution
of Jews, sending notes to Rumania,
Russia, Austria-Hungary, and the
Mohammedan countries at various
times.